Yutaka Takanami plays live at FLOATING SOUND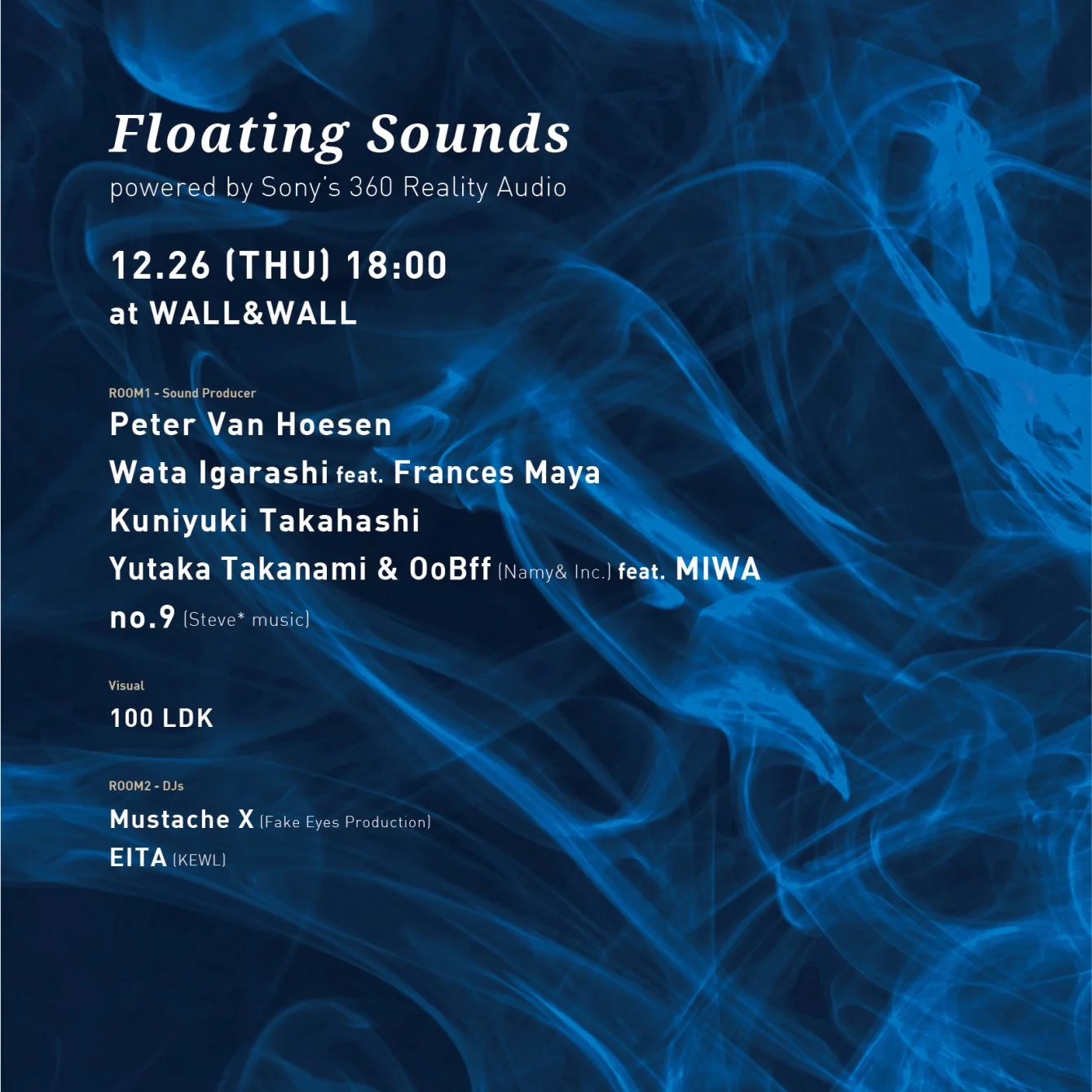 Yutaka Takanami from Namy&Inc. plays on following event!
Namy&Inc. 代表のYutaka Takanamiが出演します。
—
Floating Sounds
powered by Sony's 360 Reality Audio
12/26 THURSDAY
18:00 OPEN
18:30 START
21:00 CLOSE
"The new club experience surrounded by sounds moving three-dimensionally in the venue"
"360 Reality Audio"(*)- Sony Music's newly developed music format with the exploration of dance music's new possibilities- is ready
for experience in the club.
3D sound flowing in the field freely surrounds the audience from 360 degrees!
The first-line artists in the scene present you all-new original "moving" tracks, don't miss!
(* 360 Reality Audio is new music experience with immercive 3D sound field, produced by Sony.)
"空間を立体的に動く音に包まれる新しいクラブ体験"
ダンスミュージックの新たな可能性を探るべく、ソニーが新しく開発した音楽フォーマット"360 Reality Audio"(*)によるクラブ空間
での体験が実現。空間内を自由に動く立体的なサウンドがオーディエンスを全方位から包み込む。
現在シーンの一線で活躍している先鋭アーティストたちによる全曲新作の「動く」オリジナル音源を是非体験して欲しい。
(* 360 Reality Audioは、ソニーが提案する、没入感のある立体的な音場を実現する新しい音楽体験です。)
LIVE
●Room1

Peter Van Hoesen
Wata Igarashi
Kuniyuki Takahashi
Yutaka Takanami & OoBff (Namy& Inc.) feat. MIWA
no.9 (Steve* music)

100 LDK
●Room2

EITA (KEWL)
Mustache X (Fake Eyes Production)
Tickets 360yen
(RA / iFLYER)
WALL&WALL: http://wallwall.tokyo/schedule/floating-sounds/
 RA: https://www.residentadvisor.net/events/1357619
 iFlyer: https://iflyer.tv/event/321867/
※200人限定イベント
前売券が完売した場合は当日券の販売はありません。
当日は200人に達した時点で入場制限させて頂きます。
主催:WALL&WALL
技術協力:ソニーホームエンタテインメント&サウンドプロダクツ株式会社
---